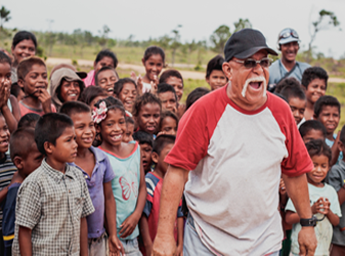 The opening chapter of Renew the Hope Ministries began with children in desperate need. In 1986, in a gesture of pure compassion, Julio Rappa (shown at left) rescued three abandoned girls from the streets of Puerto Cabezas, an eastern coastal village of 27,000 in Nicaragua.
Fourteen years later, after a series of moves to accommodate its growing adoption of displaced children, Casa Bernabé moved to its current campus in Puerto Cabezas under the leadership of Pastor Earl Bowie and his wife, Damaris (with the continuing involvement of Julio). Our 12 acres protects and educates 140 children and youth who would otherwise be living in deeply impoverished and dangerous situations. They come through a variety of paths: some have been orphaned; some were displaced by families who could no longer feed them; others came for a quality education. At Casa Bernabé, the children and youth are fed, clothed and educated. Most of all, they are loved, and taught that perfect love is only from God and his Son, Jesus Christ.
Upon graduation, many go on to college and to work in professional practices or the trades where they can provide for themselves and make a positive contribution to the community.
The devastation wrought by Hurricane Felix in 2007 threatened the survival of Casa Bernabé and indeed the entire village of Puerto Cabezas. In compassionate response to the ravages of the storm, Americans came together with local leaders to rebuild the orphanage and the neighboring Verbo Church and Verbo Christian School. The campus buildings offer safe housing able to withstand hurricane force.
Progression of Subsequent Changes 
Girls Dorm: in 2012, the girl's wing of the dormitory structure was completed, accommodating 78 girls, ages 3-21
Dining Hall and Commercial Kitchen: built in 2013 to adjoin the boys and girls dormitories, sized to seat all the children of Casa Bernabé for meals and activities

Boys Dorm: in 2014, the boy's wing was completed, accommodating 23 boys, ages 2-10

Basketball Court: in 2015, a large slab was laid as a basketball court, with nighttime lighting and bleachers

Teen Boys Dorm (Discipulado): in 2016, the teen boys dorm was rebuilt to accommodate 30 boys, ages 11–21

Perimeter Fence: built over three years (and near completion) to protect and defend the full campus of Casa Bernabé

(Casa Bernabé is named for the apostle, Barnabas, depicted in the Scriptures by his integrity, encouraging spirit and generosity.)