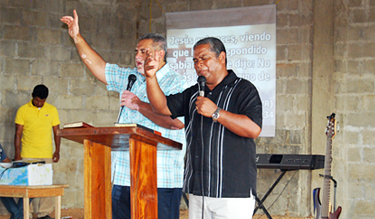 Pastor Earl Bowie
Earl Bowie (pictured on right) serves as Pastor of Verbo Church and Director of 16 church plants, in addition to overseeing Casa Bernabé, Verbo Christian Schools and all community outreach programs.
Born in Puerto Cabezas, Earl was raised by his grandmother from 6 months of age, and attributes his work ethic and character to her influences. At age 19, Earl gave his life to Christ. At 24, after two years of mandatory military service, Earl was called to Managua where he served in teen ministry. There he met Damaris Rivera. Soon after marrying, Earl and Damaris returned to his hometown to minister there. They are the parents of three grown and accomplished children.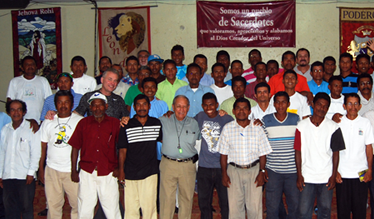 Pastoral Growth
Two times a year, up to 50 pastors along the Coco River attend conferences hosted by Pastor Earl, traveling days by canoe to Puerto Cabezas that they may grow in their understanding of the Gospel. These are intensive trainings that teach the pastors how to develop different skills to learn and understand the Word of God, and how to teach and preach it that souls may hear the life-altering message of Scripture. Since October 2016, the upper floor of the new Vocational Center at the orphanage has accommodated these pastors during their stay.